By providing access to a broad network of resources, education, leadership, and support, Hawai'i Women in Filmmaking creates the conditions for women and girls to express themselves through the media of film; raise awareness and visibility of women's and girls' work in film; and promote a diverse and positive representation of girls and women in media. It is a creative and safe space where film and media-makers connect, create, mentor, and inspire current and future generations of women to explore and pursue careers in the field of filmmaking.
Applications to the 2016 Spring Making Media That Matters filmmaking program for girls are now being accepted through Sunday, December 6, 2015.
Program details:
January 22-April 15
Fridays 4:00 - 7:00 p.m.
Ages 13-19
Open to cis, trans, and non-binary youth
Hosted at the Hawai'i Filmmakers Collective
3167 Waialae Avenue, Kaimuki
REGISTRATION & INFORMATION: www.hawaiiwomeninfilmmaking.org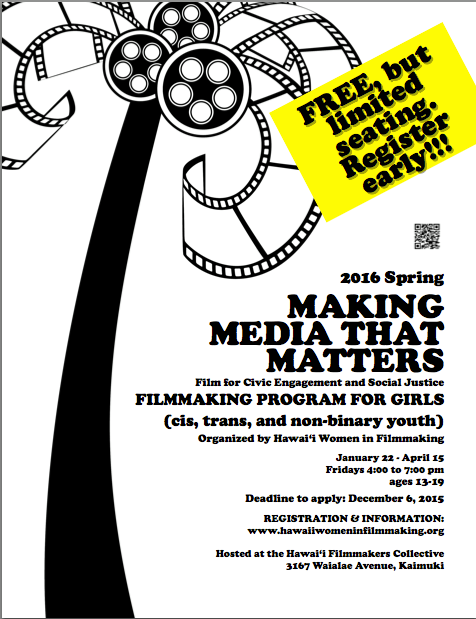 Categories: Training