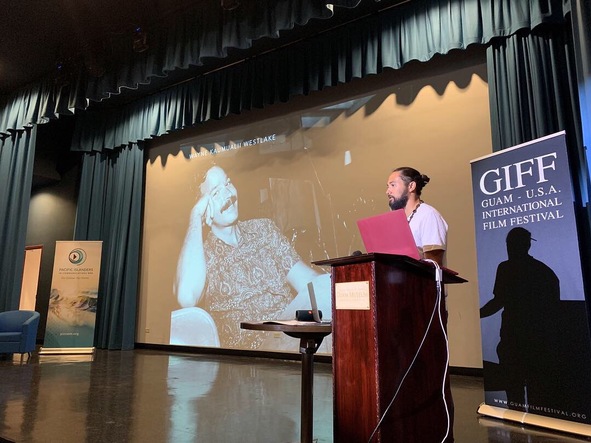 This past March, I was given the unique opportunity to visit Guahan (Guam) for the first time to help host a filmmakers workshop, organized by Pacific Islanders in Communications and the Guam International Film Festival. As the story goes, it had been about 10 years since PIC last made a workshop visit to Guahan and connected face to face with filmmakers from the Marianas region. Needless to say, a decade is a long time, and a lot changes within such a time. So, the purpose of the workshop was really to re-establish that relationship, connect with filmmakers there, learn of their passions and needs, and share the various grants and opportunities available to them through PIC. Having just finished my PIC-funded short film, Down on the Sidewalk in Waikiki, I was offered the opportunity to join PIC in Guahan to share my experience with the participants of the workshop there. So, directly after our film's world premiere at Maoriland Film Festival in Otaki, Aotearoa, I found myself making my way across the Pacific to the Marianas. It was such a privilege to be invited to come share my film, and more importantly, to connect with other filmmakers and storytellers in the region. Throughout the 3 days of the workshop, we walked through the entire grant application process for PICs Digital Shorts Fund, and I shared my experiences in taking the film from concept, to pre-production, through production and on to post-production and distribution. It was a jam-packed 3 days full of inspiring conversations, teaching and learning, and meaningful new friendships, all within the walls of the beautiful, newly-built Guam Museum.


This was a much appreciated learning and growth experience for myself, requiring me to step into and embrace the role as a mentor, in hopes that by sharing my journey (along with all my grant submission materials with the participants) that it might spark inspiration and leave them better equipped to develop their films and apply for funding. A major component of the workshop that I particularly enjoyed involved a handful of participants taking the opportunity to pitch their digital shorts ideas for immediate feedback and guidance. This was a unique learning experience for me as it was my first time being on the receiving end of a pitch, listening and providing feedback as opposed to being the one pitching. We then spent the second day breaking everyone up into groups and workshopping each of the film ideas based on the feedback they received from the initial pitch session. The room buzzed with provoking questions and creative ideas being exchanged to help each of the pitching filmmakers strengthen their respective stories. On the final day of the workshop these filmmakers were given the opportunity to re-pitch their films to everyone, including our panel of workshop hosts. The level of drastic improvement in each of the pitches and the refined clarity in each of their stories from the first day to the third was extremely evident and equally impressive, giving testament to the power of collective collaboration and creative discussion. The sense of community actively building through the exercises in this workshop was palpable. It felt like, most importantly, these filmmakers were re-connecting and re-building relationships with one another, which to me, is the ultimate momi (or gem) of this experience. When we leave, they will still have one another to call on for support, to draw inspiration from, and to work together in bringing each others films to fruition. In my opinion, it is this ability as Pacific Islanders to value and rely on community, and on our pilina (relationships) to one another, that will allow us all to collectively elevate our work and our industry. I see this workshop as a means to build a bridge between our island groups and to realize our similarities and interconnectedness, because when one of us succeeds, we bring the rest up with us. Opportunities like this only broadens the foundation of community from which we can stand upon.
The themes of each of the stories pitched resonated, as I found many similarities to the kinds of stories I find myself wanting to share from within my Hawaiian community. Themes that explore creatively revamping education models to give students a more inspired experience, themes of cultural family traditions and the importance of passing this knowledge down through the generations, and themes of health and well-being within our communities were all present within this community of storytellers. It left me feeling humbly connected to find personal relevance in their stories and passion, and grateful for their openness in letting me provide feedback, guidance, and direction to more clearly craft their story.
I hope this community gained something of value from my participation in this workshop, and that if nothing else, they know they have a friend and fellow filmmaker here in Hawai'i that they can reach out to for support at any time. I think the beauty in all of it, for myself, is knowing and acknowledging that I'm still growing as a filmmaker and still have so much to learn. And really, the ultimate blessing of this workshop for me lies in the friendships I've built and the connections made, because in these relationships lives the source for continued learning and expansive growth. I'm humbled by the dedication and passion of each of the participants I met and look forward to all the ways we will continue to support one another in elevating and illuminating the stories of our Pacific Islander heritage.
There are so many amazingly beautiful, culturally relevant, perspective-shifting stories from this region begging to be told, and it inspires me to know there are talented, passionate filmmakers equipped to tell them. I look forward to one day soon seeing many of the stories and ideas we discussed together cinematically materialized and giving voice to this resilient region of the Pacific.
Categories: None