Above image: Michael and Whitney Skillman perform the Maori tradition of hongi. Photo: Jean Melesaine

By Oakland Museum of California
At the Oakland Museum of California, a new kind of Museum exhibition is celebrating the vibrant cultural practices of the Pacific Islands, and the historic relationships, past and present, between the Pacific Islands and California. Pacific Worlds examines the deep and many-layered histories and the on-going connections of Pacific Islanders to California—a place many Pacific Islander people call home.


A traditional kava circle gathers in Dimond Park, Oakland. Photo: Jean Melesaine
Turning the familiar idea of California as the western frontier on its head and re-positioning the state as "the East Coast of the Pacific," Pacific Worlds weaves together never-before-seen pieces from the Oakland Museum of California's collections along with contemporary California Pacific Islander artwork and community voices. Through the exhibition, visitors learn how Pacific Islanders in California today maintain cultural practices including dance and music, food, fiber arts, tattooing, surfing, and more.

Tongan seamstress Langilangi Mavae makes tapa cloth at her home in Oakland. Photo: Jean Melesaine
Programs and events throughout the run of the exhibition, such as September's screening of PIC-funded film Kumu Hina and an upcoming viewing of Skin Stories on November 27, bring more ways for visitors to connect to the exhibition's themes and stories. As OMCA Curator of Contemporary History and Trends Suzanne Fischer says, "The Pacific Worlds exhibition celebrates the diversity of contemporary Pacific Islander identities, so it was great to screen Kumu Hina, a film that resonates with that idea, at OMCA. The screening was well attended and many visitors came to the Museum specifically to see the film. We hope that the series, including upcoming film Skin Stories, and exhibition alike spark meaningful conversations about cultural practice and identity for visitors from all backgrounds."

Fijian tattoo artist Lomani Gaunavinaka of Santa Rosa sketches tattoo designs. Photo: Jean Melesaine
Other programs add additional ways to interact with the exhibit: A tour of the exhibit takes place twice a month on the first and third Sundays at 3 pm. During Friday Nights @ OMCA from 5 to 9 pm every Friday, bring family and friends to see the exhibition for half-off for adults, and free for ages 18 and under, and enjoy a vibrant night market, complete with food trucks, dancing, live music, and DJs. There are many ways to share and learn with Pacific Worlds at OMCA, and you'll leave asking yourself this question: What does the Pacific mean to me?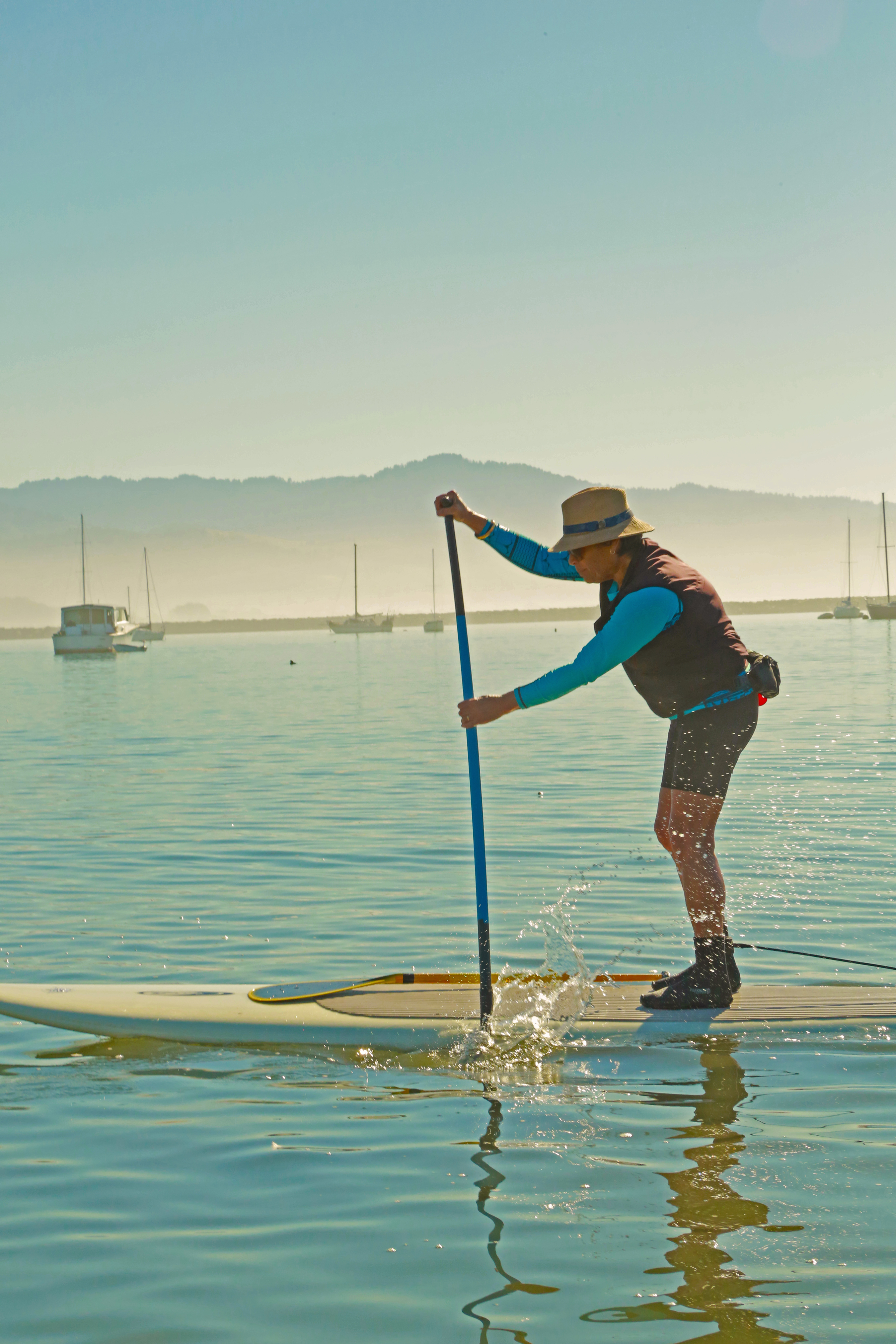 Bird Levy, of Hawaiian descent, paddleboarding in Half Moon Bay. Photo: Jean Melesaine
---
Come visit Pacific Worlds, on view at OMCA through January 3, 2016.
Links:
November 27 Skin Stories film program: http://museumca.org/2015/omca-film-skin-stories
September film program (PAST): http://museumca.org/2015/omca-film-kumu-hina
Tours: http://museumca.org/exhibit/pacific-worlds
Exhibition page: http://museumca.org/exhibit/pacific-worlds