By David Grubin
A filmmaker – especially anyone with a release slated for television with its enormous number of anonymous viewers – likes to screen for a live audience, where the pulse in the room is palpable. But with Language Matters with Bob Holman, my two-hour film about endangered languages, Bob and I took a different tack. After a successful screening for nearly 500 people at the Smithsonian Museum's Baird Auditorium in Washington followed by a discussion with a panel of linguists, we decided that, for future public events, we would include endangered language speakers themselves. We put together a series of live performances of poetry, song, and dance offered by speakers of endangered languages, woven together with excerpts from the film. At each venue, Bob and I took turns introducing the performers and the film clips, elaborating on the making of the film and the subject of languages in danger of extinction. Our screenings became celebrations.

Poet/Program Host Bob Holman
New York City
Over 300 people joined us for free (all our shows were free) at the National Museum of the American Indian. We had to turn 100 or so away. Papa Susso, a Gambian griot who speaks six endangered African languages, kicked off the celebration performing songs from the Gambian oral tradition on the kora. John Haworth, the museum's director, followed, lauding the production and drawing a strong connection between the film and American Indian language revitalization efforts. Bob gave a reading, in Welsh and English, of a slam poem he wrote for the Welsh segment of the film. The nine women NYC hula group - Pua Aliʻi ʻIlima o Nuioka – energized the crowd with two dances. And for a finale, as Bob and I took the stage for Q+A, the Yiddish historian-comedian Shane Baker surprised even the museum's security guards with his entrance, posing as a disgruntled audience member before launching headlong into a hilarious Yiddish inflected monologue.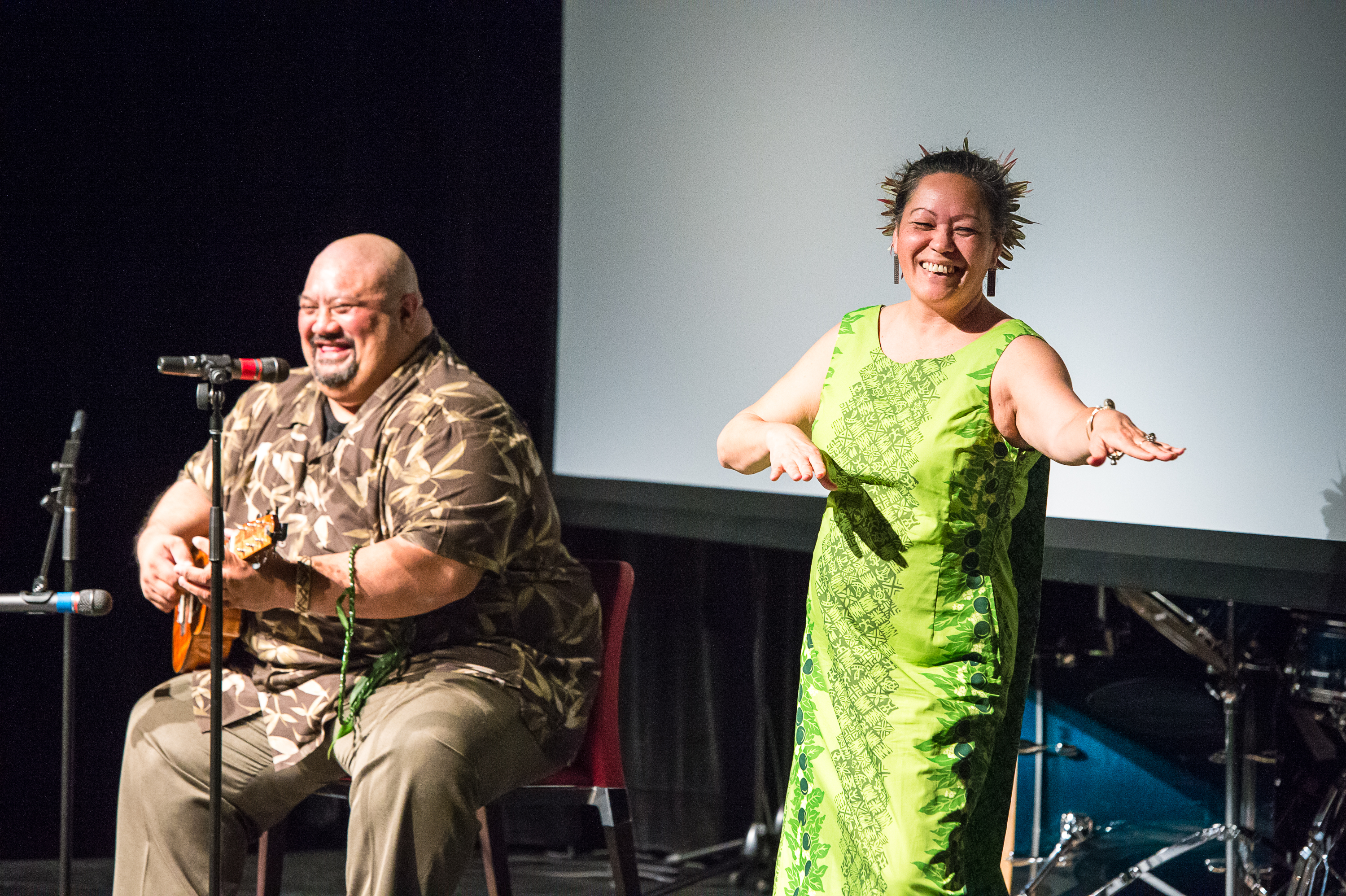 Liko Puha and Kauʻi Paralto
San Francisco
We celebrated at the Exploratorium, San Francisco's renowned science museum, with a show that connected our film to the local community of endangered language speakers. Liko Puha opened with traditional conch blasts and went on to perform a marvelous ʻukulele song about Santa Rosa, with Kauʻi Paralto dancing hula. Vincent Medina, an Ohlone speaker, inspired us with his storytelling, and Carolyn Melenani Kualiʻi led a presentation called Language is Art is Language with Hawaiian performers and visual artists. Walan Amana capped it all off with a performance in Nisenan, and continued to play through the reception that followed.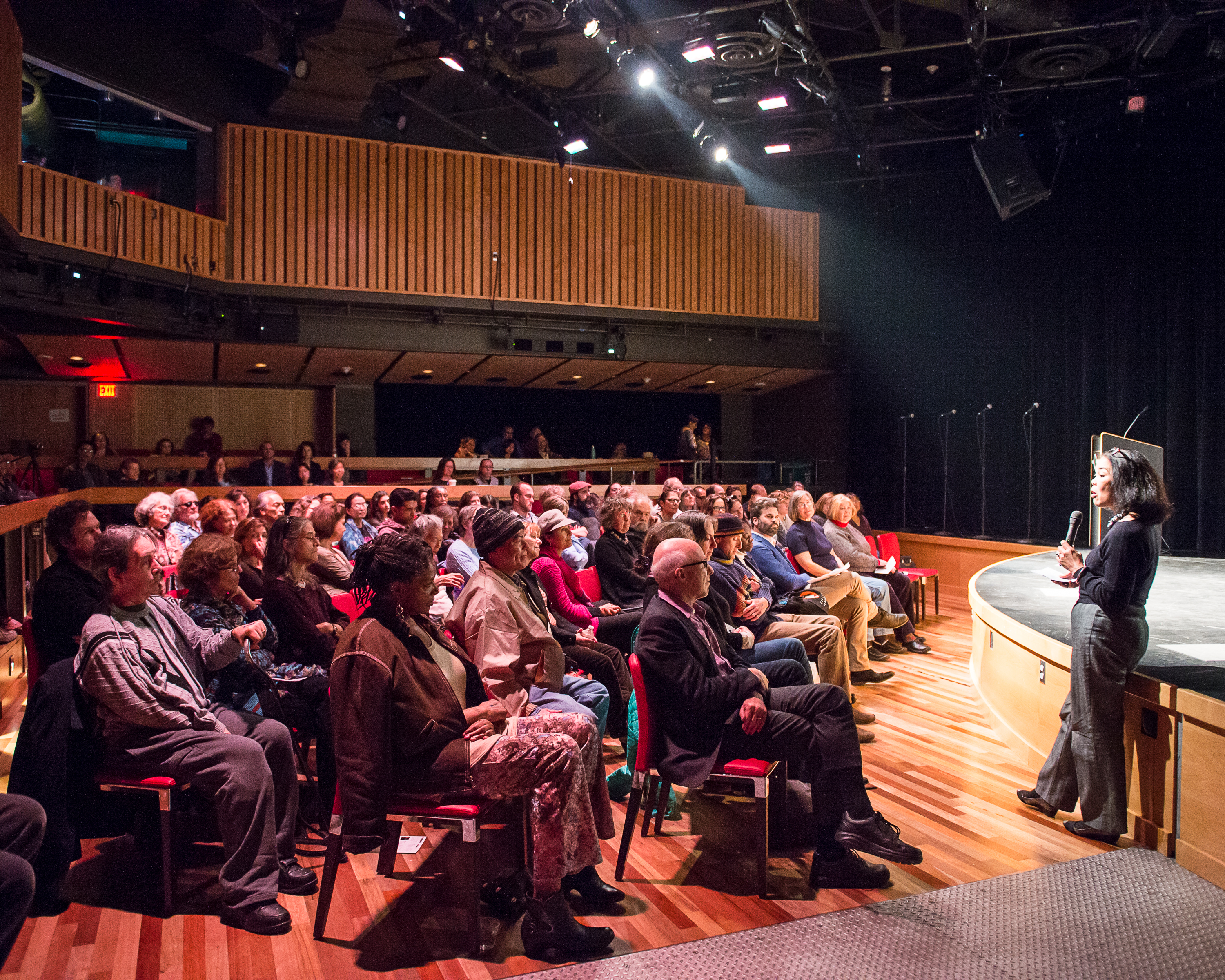 PIC Board member Leslie Lombre speaks at the San Francisco Exploratorium event
Los Angeles
The show at the Hammer Museum's Billy Wilder Theater was a vibrant and varied celebration. While the audience filled the theater's 274 pink leather seats, Barry Martin played the didgeridoo until Uncle Tony Garcia of the Hālau ʻO Lilinoe hula troupe brought everyone to attention with a conch blast. Along with excerpts from the film, the show featured dances from Hālau ʻO Lilinoe and two Poet Laureates: Luis Rodriguez, the Poet Laureate of Los Angeles, who read a poem in Nahuatl, an endangered language indigenous to Mexico; and Kealoha, the Poet Laureate of Hawaiʻi, reading in Hawaiian and English. Wrapping it up, dancer-historian Anita Martinez and the five-person drum-dance-vocal group Kulcha Jam performed in Garifuna, an endangered Arawak Indian language from Honduras-Belize.
Chicago
The Poetry Foundation hosted our show in Chicago in their gleaming new building, a particularly appropriate venue: poetry is one of the entry points into thinking about language survival, and especially about what is lost in translation. Bob Holman is himself a poet, and Language Matters features the aboriginal songmen of Australia, the former national poet of Wales, Gwyneth Lewis, and two-time Pulitzer prize winner and former United States Poet Laureate, W.S. Merwin. The Poetry Foundation event featured two local poets, Peter Cook, the country's leading American Sign Language poet, performing with his interpreter, and Parsino Carlos Peynetsa, who read a harrowing poem in Zuni and English.
We are continuing to host events and screenings of various kinds. Check us out at languagemattersfilm.com.
---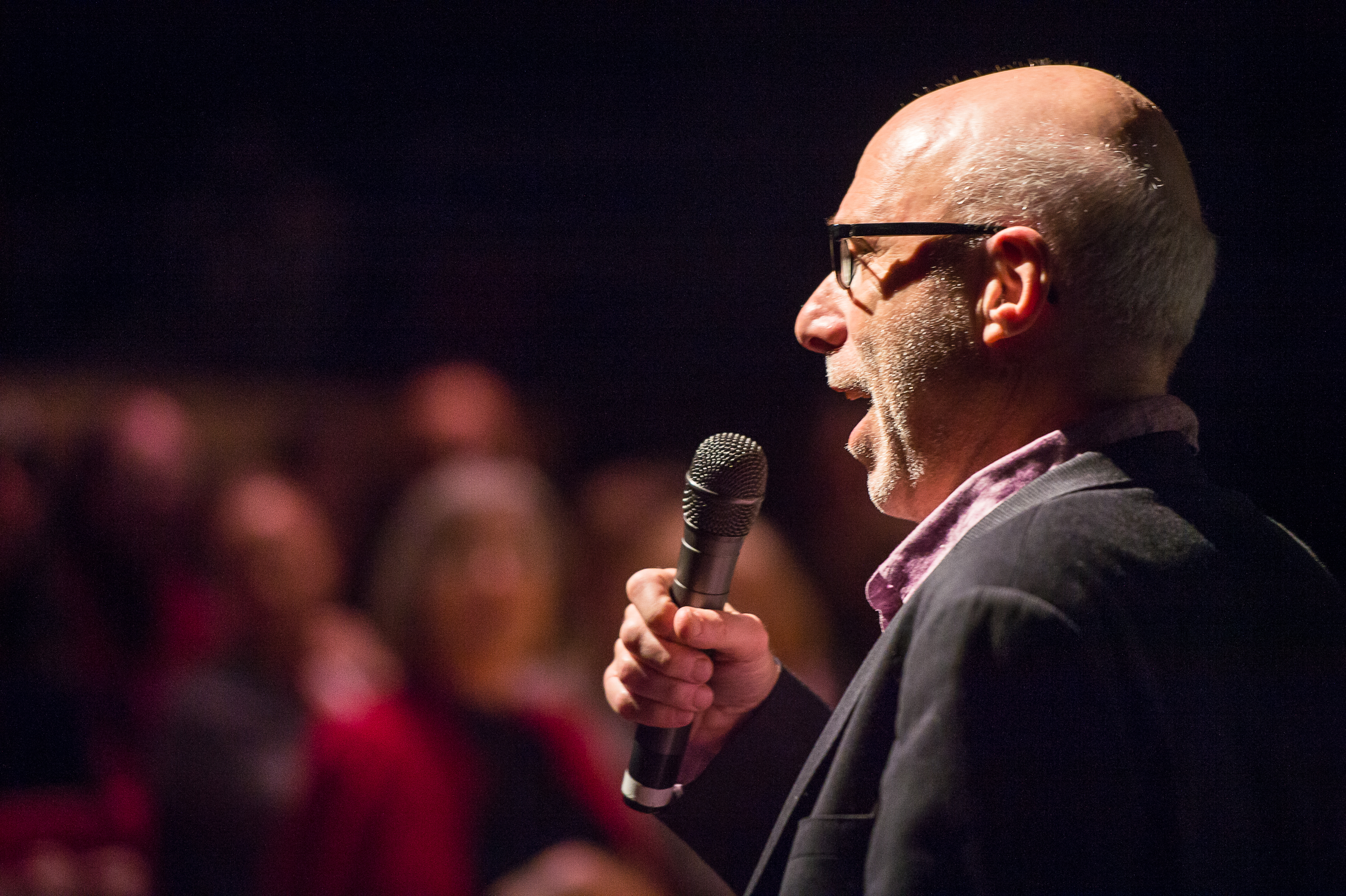 David Grubin is a director, writer, producer, and cinematographer who has produced over 100 films, ranging across history, art, poetry, and science, winning every award in the field of documentary television, including two Alfred I. Dupont awards, three George Foster Peabody prizes, five Writer's Guild prizes, and ten Emmys.
His biographies for the PBS series American Experience – Abraham and Mary Lincoln: A House Divided; LBJ; Truman; TR: The Story of Theodore Roosevelt; and FDR – have set the standard for television biography. His five-part series for PBS – Healing And The Mind with Bill Moyers – has won many awards, and the companion book, for which he was executive editor, rose to number one on The New York Times Best Sellers list, remaining on the list for 32 weeks. His award-winning independent feature film Downtown Express has been screened at festivals in America and abroad. His other films include: The Buddha, The Trials of Robert Oppenheimer, The Jewish Americans, The Secret Life of the Brain, Young Doctor Freud, The Mysterious Human Heart, and Napoleon.
Grubin has received a Guggenheim Fellowship, has been a Montgomery Fellow at Dartmouth College, and is the recipient of an honorary doctorate from his alma mater, Hamilton College. A former chairman of the board of The Film Forum, he is currently a member of the executive committee of the Society of American Historians, and sits on the board at Poets House. Grubin has taught documentary film producing in Columbia University's Graduate Film Program, and has lectured on filmmaking across the country.
Language Matters is a co-production of David Grubin Productions Inc. and Pacific Islanders in Communications. Produced in association with The Endangered Language Alliance. Major funding provided by the National Endowment for the Humanities with additional funding provided by the Corporation for Public Broadcasting, the Arthur Vining Davis Foundations, the National Endowment for the Arts, and philanthropic individuals.
Categories: Events, Producers' Post, Screening