PIC funded filmmaker, Sergio M. Rapu (Eating Up Easter), shares with us his experience at European Film Market, as part of Berlinale Film Festival.
My goal was simple – sell the movie. Ok, that's a lie. I'm not as naïve than you would expect. Beyond meeting my indigenous cohort and building my native network, I also hoped to make contacts that would allow me to understand the murky waters of international sales and distribution. We knew that our doc needed to live in places that were easily accessible so that more people would have the chance to see it. TV and VOD was the perfect venue, so was streaming, in-flight entertainment would be even better and would hopefully come with a requirement for all passengers to watch our film before they landed on Rapa Nui. :)
The sad truth is that when you are picture locked on your doc you are only halfway to the finish line. This came as a surprising shock to me and my co-producer Elena Kouneski Rapu as we started to dig into "life after lock" on EATING UP EASTER, our first indie feature doc. After spending nearly 6 years of grueling nights and weekends while also trying to raise two rambunctious boys – keep in mind we were child-free when we started production – we were all but ready to take a year-long vacation away from any sort of edit system. However, we quickly realized that the fruits of our labor would never truly ripen, or nourish unless it reached the intended Western audiences that we had originally targeted. But now with our finished film in hand, how do we distribute it? Beyond aiming for a US TV broadcast via PBS, where else could it go? These were the questions in my head as I boarded a plane for Germany to attend the European Film Market (EFM) as part of the Berlinale Film Festival. Thanks to Pacific Islanders in Communications, I had been selected as one of two US fellows for the NATIVe Program that aimed to provide access to the EFM for indigenous producers from around the globe. Here is what I did, repeat with caution.
A sketch used by Themba Bhebhe, head of Inclusion and Diversity at EFM, as he explained the sale of a film.
The NATIVe program was fantastic. Aside from giving time for all us indigenous fellows to share our experiences with each other, our fearless guide Anja Mayer also suggested particular panels for us to attend, or set up workshops for us with a variety of producers, sales agents, and organizations. One of the many sound bites I wrote down came from NALIP's ED, Ben Lopez, who encouraged us to think about our families, our communities, when we are pitching projects, "You are not selling for yourself, you are selling for them." This idea not only takes the self-doubting pressure off of you but also fits right into the Polynesian mindset which generally holds community above self. Another highlight of the festival was attending the premiere screening of VAI, where the sounds of a Tahitian toere drum welcomed us into the theater and a mixed dance performance from across the Pacific prepared us for the film that was to come.
Outside of the NATIVe program, we were given a lot of time to experience EFM on our own. For me, this was my chance to meet as many people as possible – and that meant booking meetings. If you are part of the industry portion of any film market you usually get access to the contact info of who is attending way in advance. Using this database, I built my hit list and started emailing people about two weeks before the start of the conference. Using a carefully crafted form email with a link to my trailer and banner of the film, I sent out requests to meet. Out of the nearly 30 or so people I targeted, I was able to secure about 8 meetings; some just materialized when I was there. For those who didn't respond, but for who I really wanted to meet with, I stalked their table until they were between meetings then quickly introduced myself, gave them a flyer, and secured enough interest to follow up via email. I also quickly learned that many sales agents and distributors attend Berlinale for the narrative portion of the festival, not the doc side. For the doc-heads like me, the best place to be was the "Doc Salon," a room on the 2nd floor of the building where people just talked shop on docs all day. So was I successful? I'll tell you when the ink is dry.
But in all honesty, the NATIVe program gave me more than I could have ever expected. In speaking with my other native fellows it was clear that our experience was diverse (fellows came from the US, Canada, Norway, Greenland, New Zealand, and Australia and included doc and narrative filmmakers) but we all struggled with very similar hurdles; accurately representing our stories for non-indigenous audiences, finding funding, finding adequate distribution outlets. This business is difficult, and perhaps even more so for indigenous producers. It is important to make alliances with not only those who will propel your film forward but also those who can bring you back to your center when your plans go awry.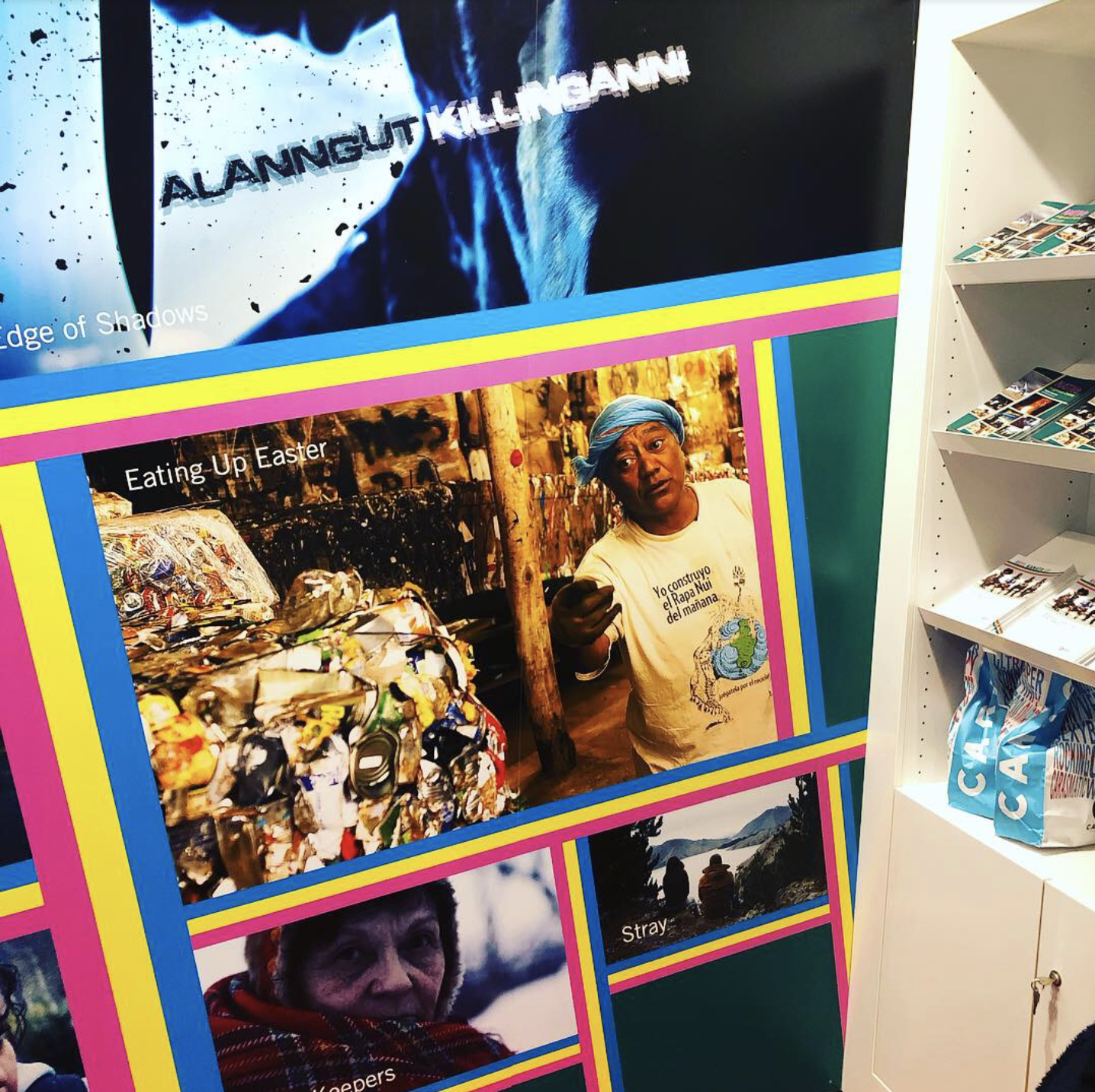 Image of EATING UP EASTER at the NATIVe stand.
Entrance to the main European Film Market building at Gropius Bau.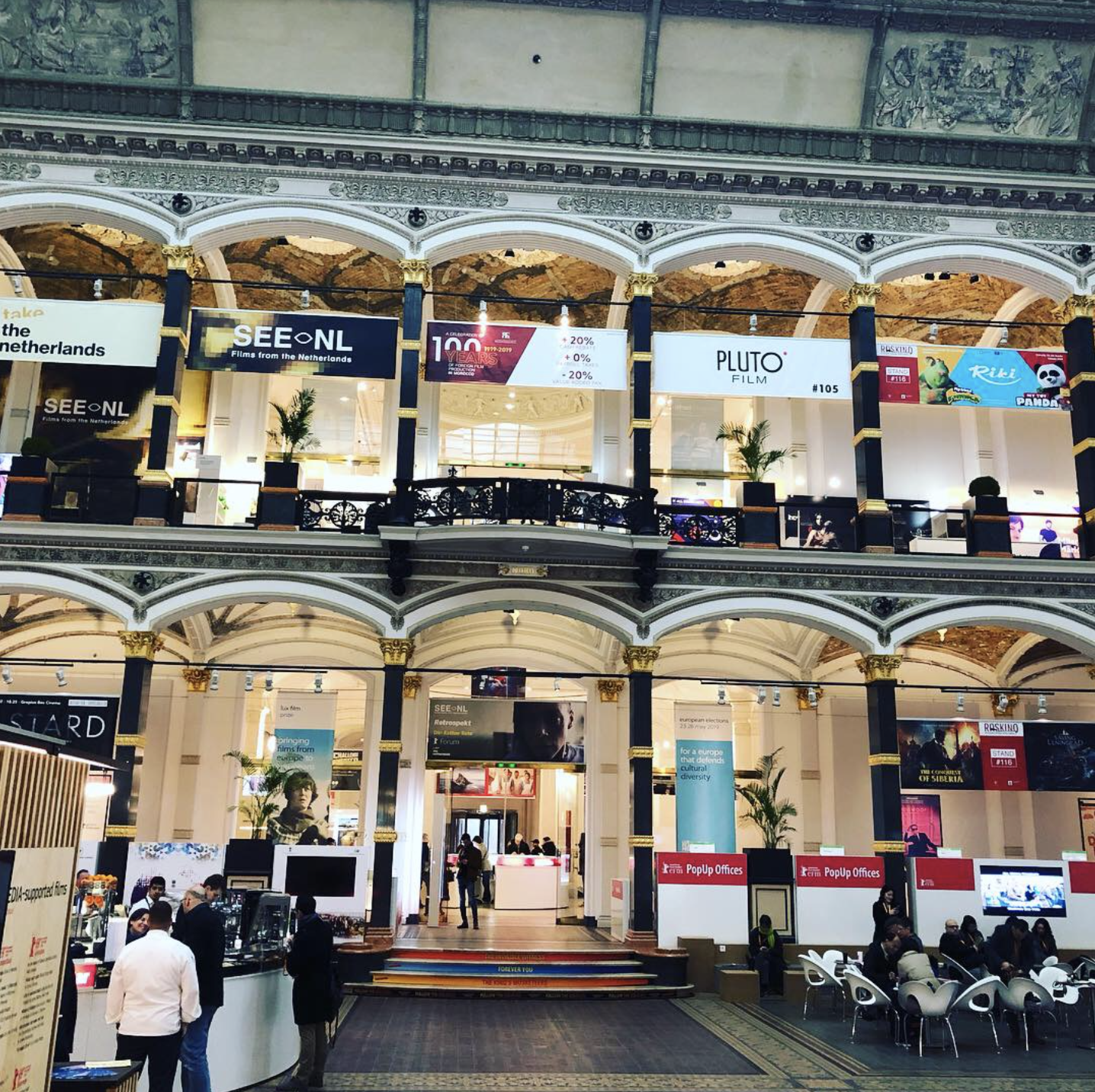 Inside Gropius Bau, the center of the European Film Market.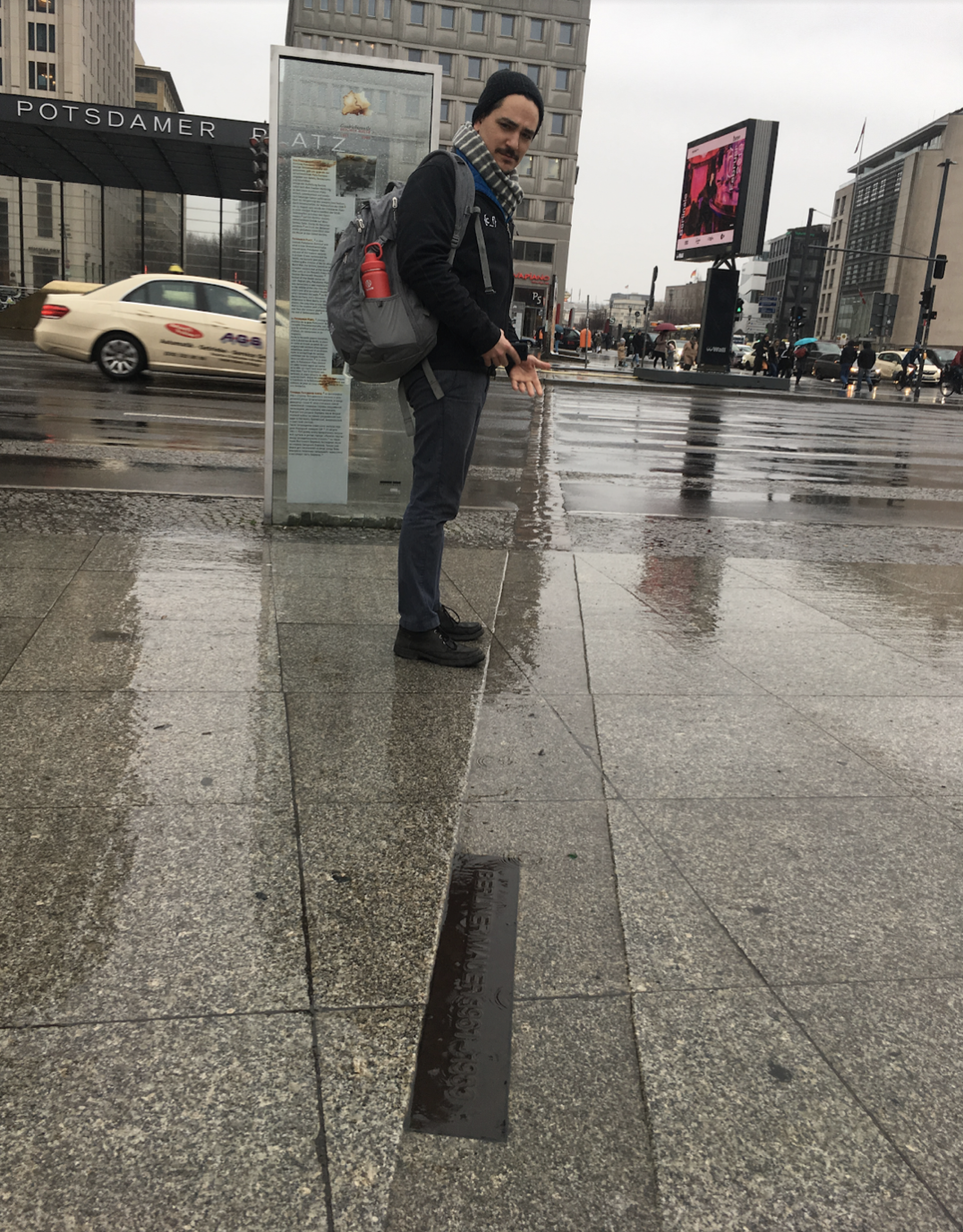 Sergio at the line that marks where the Berlin wall used to stand.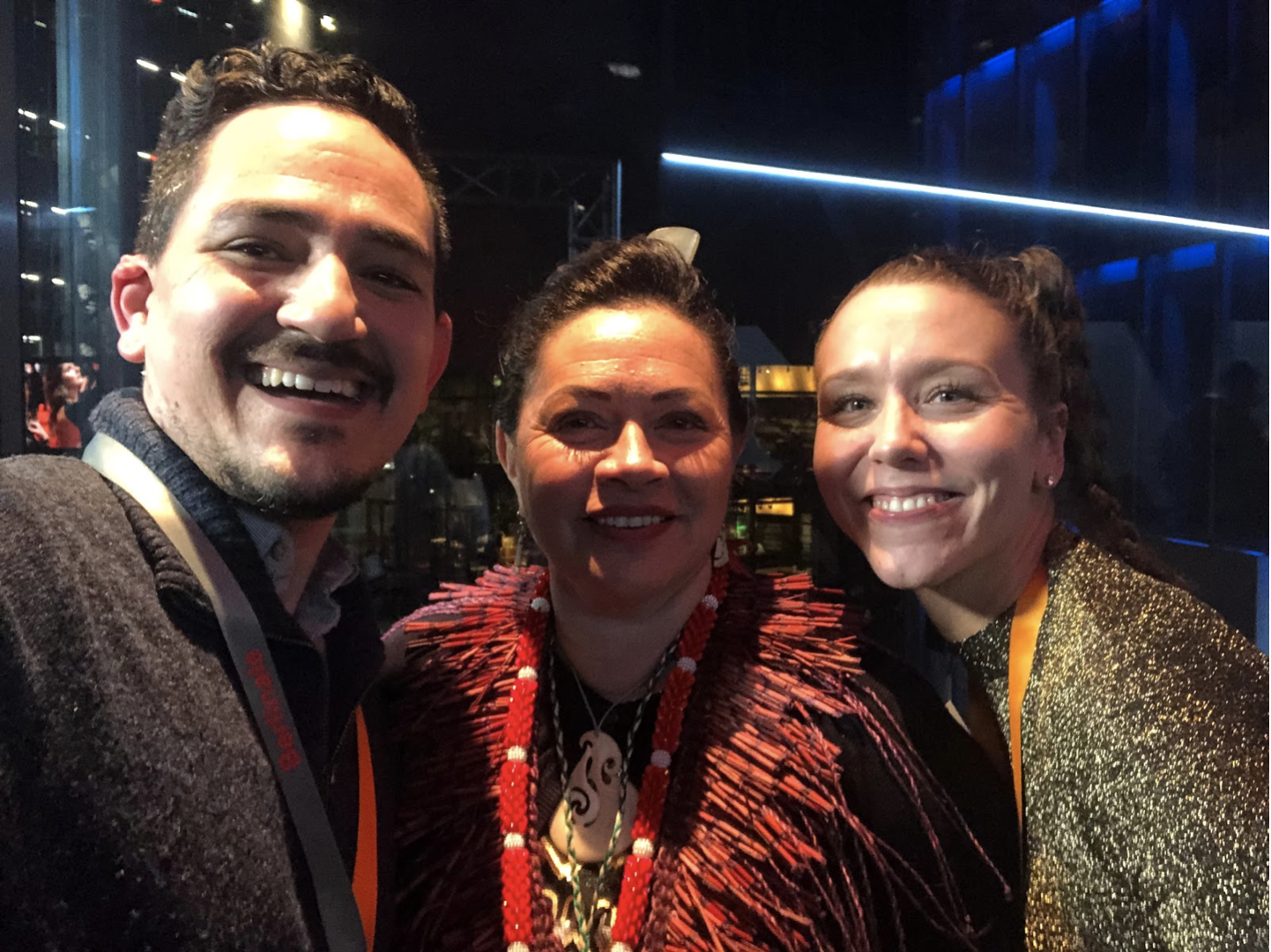 Sergio, Karen Te O Kahurangi Waaka-Tibble (New Zealand Film Commission), and Nina Paninnguaq S. Jacobsen (Greenlandic Fellow) at the premiere of VAI.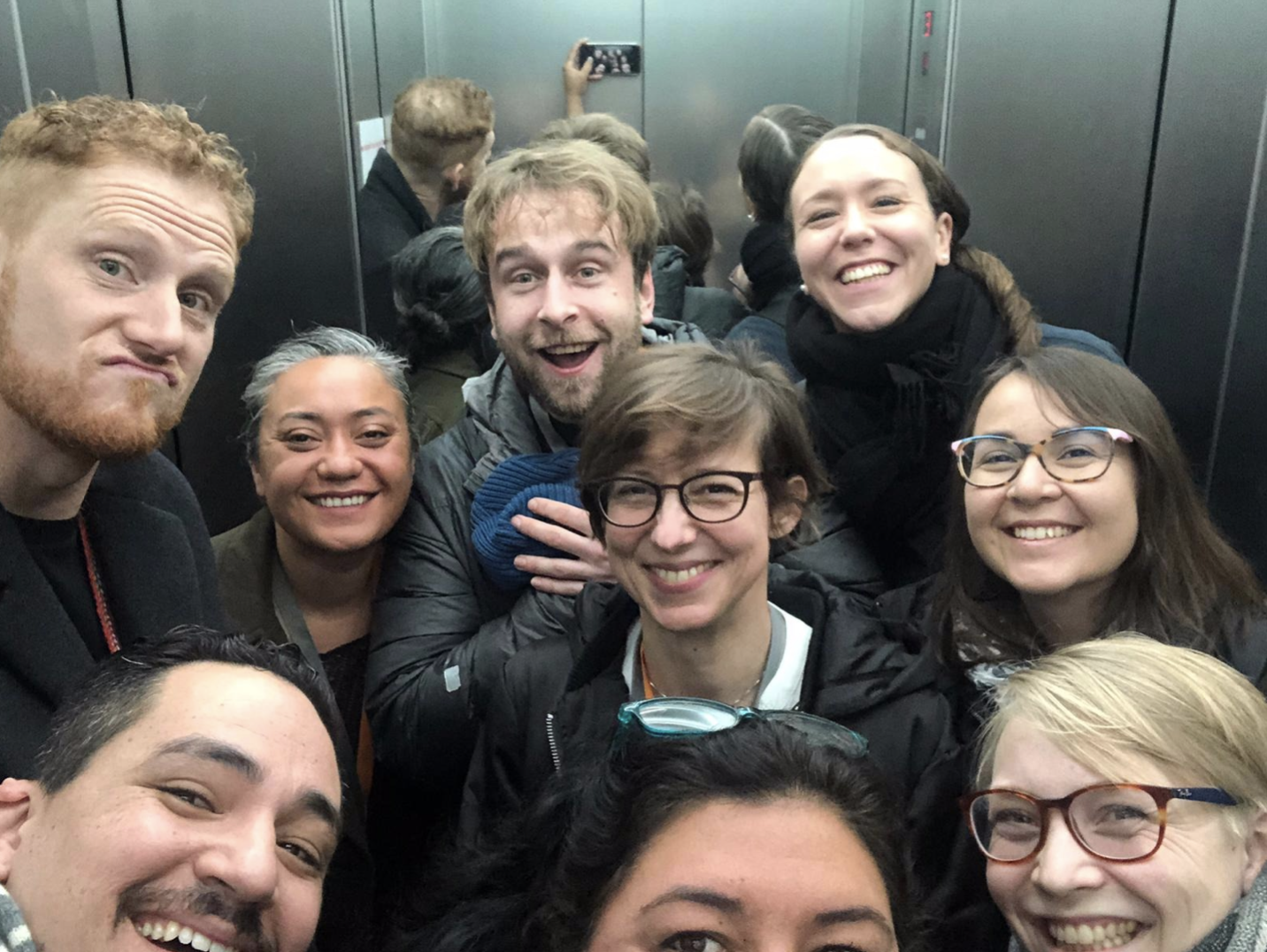 NATIVe fellows cram around Anja Mayer in a very full elevator.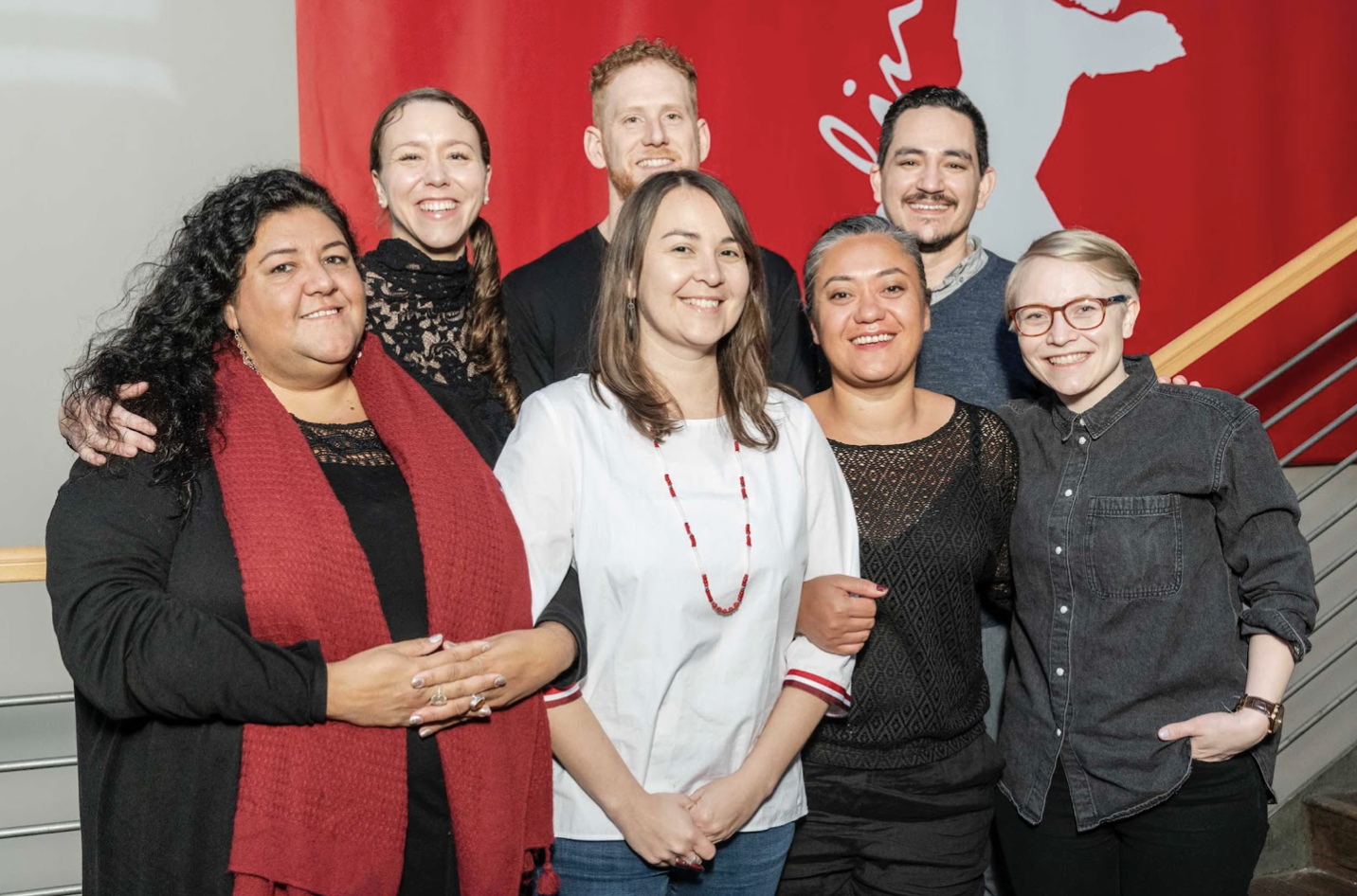 NATIVe fellows.
All photos courtesy of Sergio M. Rapu
Categories: Newsletter