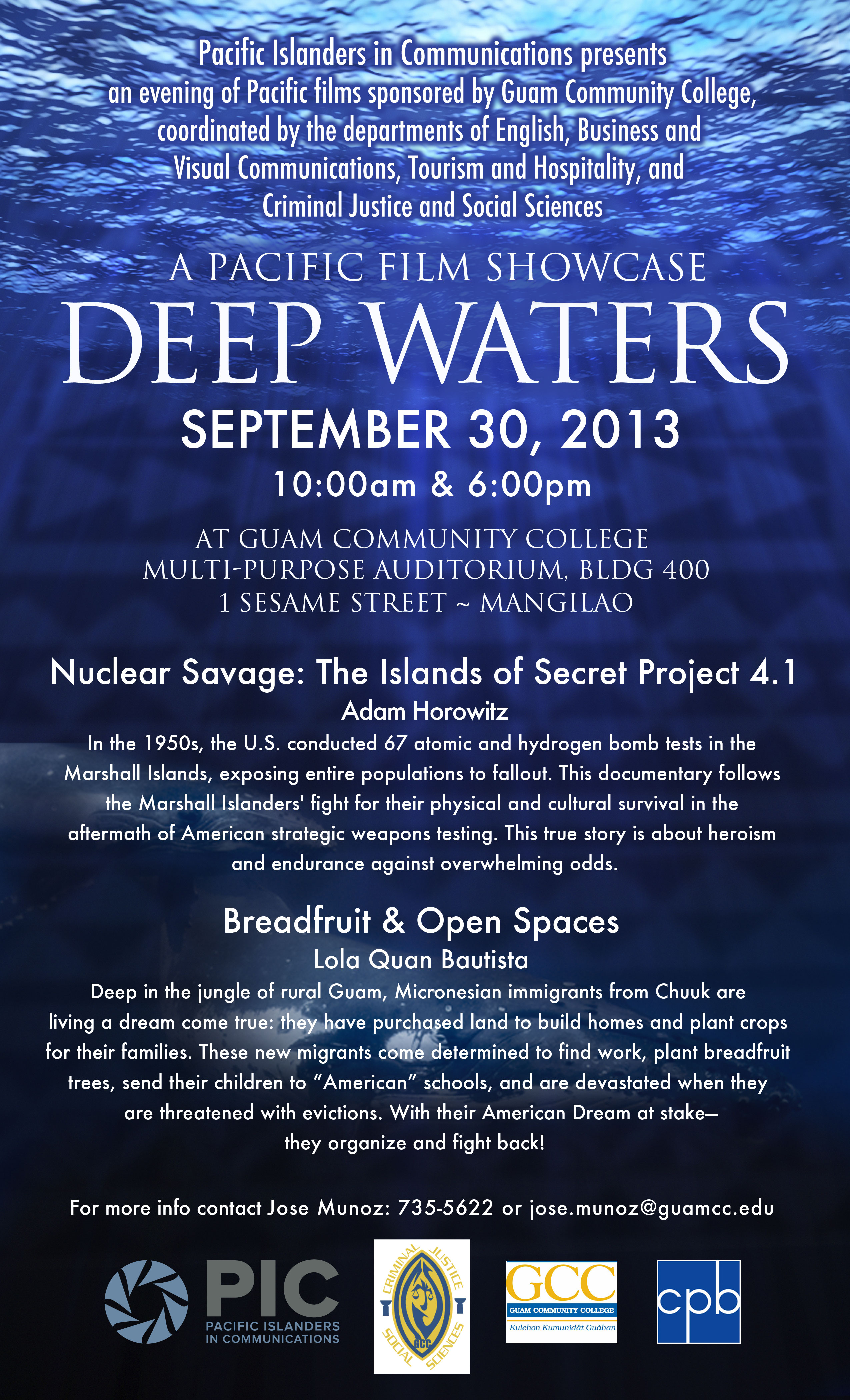 PIC presents DEEP WATERS, a day of Pacific films sponsored by Guam Community College, coordinated by the departments of English, Business and Visual Communications, Tourism and Hospitality, and Criminal Justice and Social Sciences.
DEEP WATERS - A Pacific Film Showcase
Monday, September 30, 2013
10:00 AM & 6:00 PM
Guam Community College
Multi-Purpose Auditorium, Bldg 400
1 Sesame Street - Mangilao
---
Featuring the PIC-funded films:
Nuclear Savage by Adam Horowitz
Some use the term "savage" to refer to people from primitive cultures, but nuclear experimentation pushed savagery to new levels. In the 1950s, the U.S. conducted 67 atomic and hydrogen bomb tests in the Marshall Islands, vaporizing islands and exposing entire populations to fallout. The islanders on Rongelap received near fatal doses of radiation from one test, and were then moved onto a highly contaminated island to serve as human guinea pigs for 30 years. Filmmaker Adam Jonas Horowitz spent 25 years collecting material--including original footage, archival clips, and unpublished secret documents--to create this unforgettable and ironic portrait of American cynicism, arrogance, and racism. Winner of festival awards in Paris, Chicago and Mexico City.
Breadfruit & Open Spaces by Lola Quan Bautista
Breadfruit & Open Spaces explores the journey of a group of Pacific Islander immigrants from the Federated States of Micronesia who are now living on Guam. This half-hour documentary profiles their struggle to hold their ground and find a voice on a new island, while maintaining ties to their families on their home island of Chuuk. The film is shot in an intimate, backyard style and gives a rare look into the personal lives of Pacific Islander immigrants who work and attend school on Guam and enjoy living in open spaces where families gather and traditional foods are grown.
These new migrants are living a dream come true. They moved to Guam determined to find work and to send their children to "American" schools, and they have worked hard to purchase land where they can build homes and plant crops for their families. Because of this, they are devastated when the Guam Environmental Protection Agency (EPA) threatens to evict them. With their new livelihood at stake, the residents organize and fight back.
---
For more info contact Jose Munoz: 735-5622 or jose.munoz@guamcc.edu
Categories: Screening