The Land Has Eyes
June 2016
The Land Has Eyes, directed by Vilsoni Hereniko and produced by Jeannette Paulson Hereniko, tells the story of a young South Pacific island girl, Viki, played by first-time actress, 17-year-old Sapeta Taito. She must fight for justice after being shamed by her village for being poor and the daughter of a convicted thief. Her father reminds her that despite injustice, the land is vigilant and will eventually avenge any wrongdoing. The Rotuman mythological character "Warrior Woman," played by Māori actress Rena Owen of Once Were Warriors, both haunts and inspires Viki to endure through her trials.

The Land Has Eyes was declared the winner of the Premiere Festival Prize for best overall entry in the inaugural Waiora Māori Film Festival in New Zealand.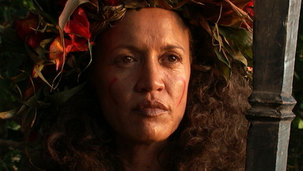 A young girl in Fiji fights for justice.
Filmmaker(s)

Jeanette Hereniko
Vilsoni Hereniko
Merata Mita
Category
---

On Air - Check Your Local Listings