Holo Mai Pele
August 2016
Holo Mai Pele initially premiered as a stage production on Maui in 1995. it was created by revered Nā Kumu Hula Pualani Kanakaʻole Kanahele and Nālani Kanakaʻole, who turned this epic three-hour theatrical performance into a one-hour special for public television.
The film version was funded by pacific islanders in communications, Holo Mai Pele appeared on PBS' great performances – the nation's longest running, most prestigious TV series dedicated to the performing arts – it represented the most visible treatment of hula to appear in national media and was the first time that anything from the pacific had been selected for the program
The creative team, the Kanaka'ole sisters along with producer/director Catherine Tatge managed to maintain cultural integrity while when adapting a work of such deep significance for a national audience.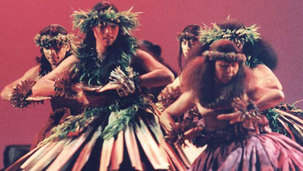 An epic hula that tells the tale of Pele and her sister Hi'iaka.
Filmmaker(s)

Catherine Tatge
Category
---

On Air - Check Your Local Listings