Each year, we proudly present the HIFF Leanne K. Ferrer Trailblazer Award. The award is given to a cinema artist of Pacific Islander heritage who broadens the scope of Pacific Islander stories onto the world stage, producing award winning work in independent and global cinema. The recipient is a true trailblazer, whose work aligns with our mission.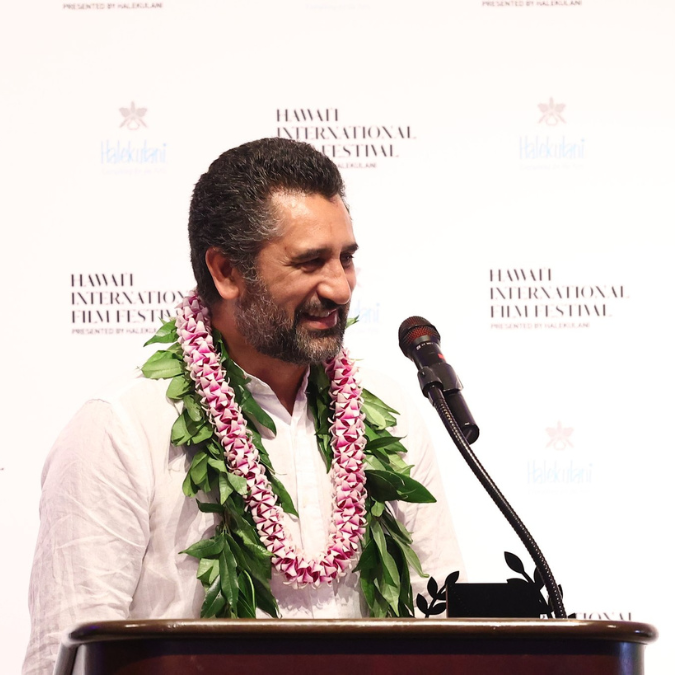 Cliff Curtis speaking at the HIFF43 Awards Gala. (Photo credit: HIFF)
This year at the HIFF43 Awards Gala, Cheryl Hirara (Executive Director of PIC) and Kaʻiulani Ferrer (daughter of Leanne K. Ferrer) presented the award to Cliff Curtis, the celebrated Māori actor and producer, whose credits include WHALE RIDER, ONCE WERE WARRIORS, and THE DARK HORSE. During the festival, he led a masterclass with other actors with aims including inspiring the new class of Pasifika performers to fight for accurate portrayals. "My goal is to no longer play a Native Hawaiian role, which should be played by a Hawaiian. My goal is to be obsolete," he said.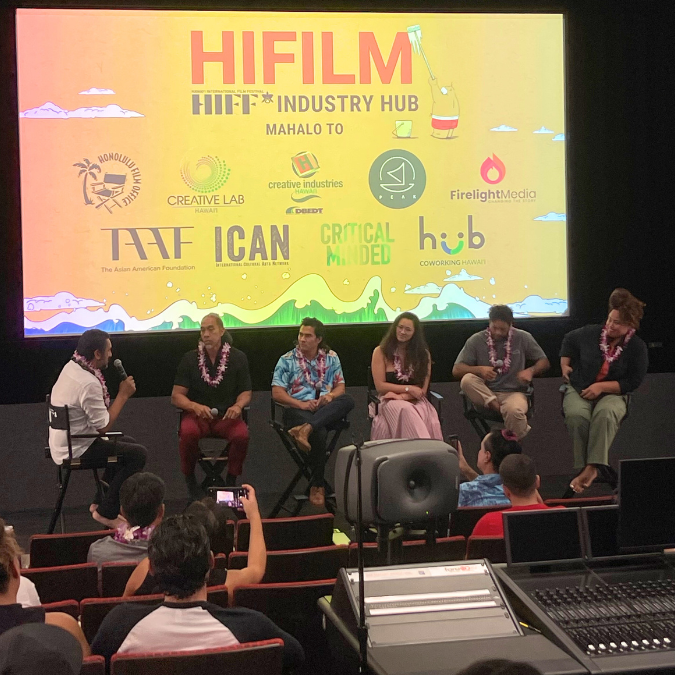 Cliff Curtis moderating a HIFILM Industry Panel, Pasifika Roles: In Conversation with Cliff Curtis presented by ICAN. Seen L-R: Cliff Curtis, Moses Goods, Brandon Finn, Te Ao o Hinepehinga, Alex Tarrant, and Sisa Grey.
CLIFF CURTIS
Clifford Vivian Devon "Cliff" Curtis is a Māori actor and producer from Aotearoa who has had major roles in film and television for over three decades. As a boy he studied mau rākau, a traditional Māori form of taiaha fighting, with Māori elder Mita Mohi on Mokoia Island, which nurtured his abilities as a performer in kapa haka. Curtis later performed as a breakdancer and competitively in rock 'n' roll dance competitions. He received his secondary education at Edmund Rice College, Rotorua. Curtis graduated from Toi Whakaari: New Zealand Drama School in 1989 with a Diploma in Acting. Curtis, who is ethnically Māori (his tribal affiliations are Te Arawa and Ngāti Hauiti), has portrayed a range of ethnicities, including Latin American and Arab characters in major Hollywood features. But it is his Pasifika roles in primarily Aotearoa-based and produced productions that resonate in seminal films such as THE PIANO (1993), ONCE WERE WARRIORS (1994), WHALE RIDER (2002), RIVER QUEEN (2005), THE DARK HORSE (2014) and MURU (2022). He has produced several films and documentaries, working with the late Merata Mita, producing and appearing in one of her final documentaries SAVING GRACE, TE WHAKARAUORA TANGATA (2013), and Taika Waititi, producing his earlier works like EAGLE VS SHARK (2007) and BOY (2010). Curtis is co-owner of independent film production company Whenua Films.
Categories: Awards, Film Festival