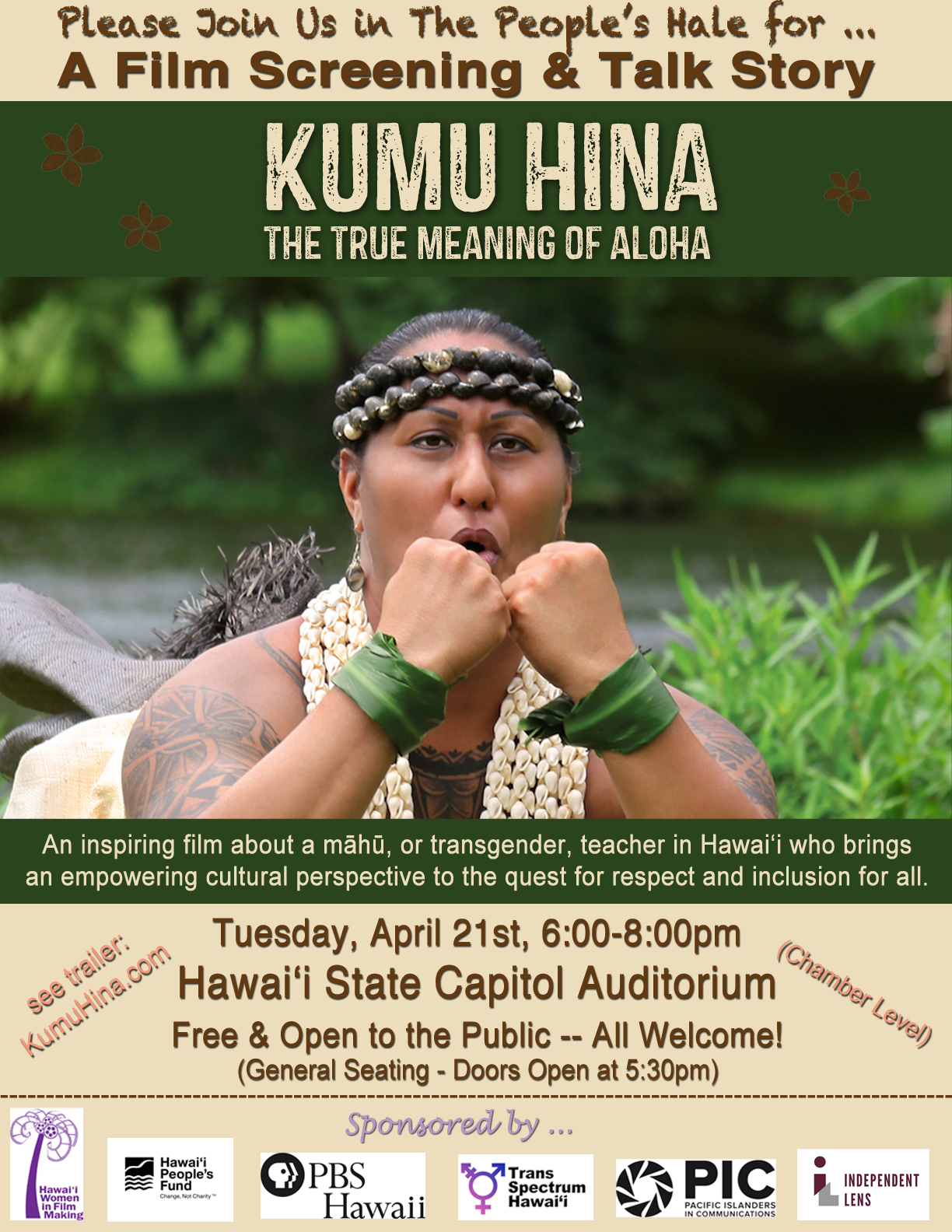 If you're on Oʻahu on April 21st, please join us in The People's Hale at the Hawaiʻi State Capitol for a free screening of PIC-funded film Kumu Hina. The event is in advance of the film's national public television broadcast debut on Independent Lens on Monday, May 4 at 10:00 pm.
The documentary follows Hina Wong-Malu, a transgender native Hawaiian kumu hula who brings to life Hawaiʻi's traditional embrace of mahu - those who embody both the male and female spirit. The film also follows Hoʻonani, a sixth-grade girl who Kumu Hina mentors to lead her all-male hula hālau.
Offering an empowering cultural perspective on gender diversity and inclusion, the screening will be followed by a community conversation on topics presented in the film and important related issues being debated in Hawaiʻi today.

The People's Hale - Hawaii State Capitol Auditorium
Tuesday, April 21st, 5:30-8:00 p.m.
All Welcome! General Seating, No Reservations.

Thank you to Hawaii Women in Filmmaking, Hawaii People's Fund, ITVS, Pacific Islanders in Communications, Trans Spectrum Hawaii, and Kumu Hina filmmakers Joe Wilson and Dean Hamer for their partnership in making this event possible.
For directions to the Hawaii State Capitol Auditorium, click here.
Facebook event: www.facebook.com/events/821075717927866/
For more info on the film and event, contact:
Joe Wilson, Co-Producer/Director at QwavesJoe@yahoo.com or (808) 629-9864